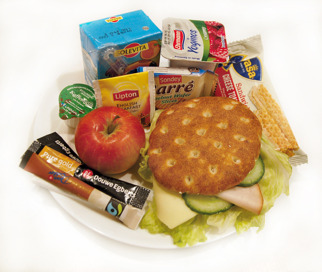 The breakfast contains:

soft bread with sliced turkey, cheese, lettuce, vegetables and lowfat butter
Wasa sandwich, with cream cheese
fruit
yoghurt
juice
cookie or chocolate for youre coffee
coffee, tea, sugar and milk.
Send us your breakfast order on reception@bokloster.se or call us at +46 (0)8 591 407 00.
You can also order from anyone of us present at BoKloster VillaHotell.
Your breakfast is guaranteed when you have received a confirming email or a reply on the phone. Enjoy your meal!
Kettle etc. is in your room. If you wish to have your breakfast in any of our kitchens you will of course find all necessary equipment there. Order one extra sandwich for only 15 SEK
The breakfast must be ordered at the latest 17.00 (5 PM). The breakfast bag will be delivered to your room the night before and placed in your refrigerator. Your breakfast is packaged well, to stay fresh until the morning after.